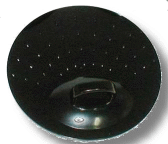 Frying pan lid
The frying pan lid which comes with the frying pan set, could have easily sold on it`s own.
The design is that clever and good.
Like any frying pan lid it keeps heat in.
But there is more.
Raised vents let steam out, but are designed to keep the food moist.
Steam filters out, not streams out, and a balance is kept between juiciness and crispness.
All very clever.
The inventiveness continues in the rest of the frying pan lid design.
What idiot put a handle in the middle of a pan lid, where there`s maximum chance of being burned?
The frying pan lid sensibly has it`s handle at one side.
Your arm does not reach across hot metal and your hand is protected from the heat of the food when you lift the lid.
And the silly knob, that you pinch with your fingers on most lids?
Forget that!
This frying pan lid has a hoop you can lift with oven gloves.
Most of us have a collection of lids, they often do not fit or sit in the pan.
Food hangs to the bottom of the frying pan lid. It is messy and wasteful.
This frying pan lid is 12 inches, a foot across, covering and sitting on top of most cookware.
You will end up using it with a lot of your cooking pans.
The gauze splatter guard that you use to protect your oven and clothes from spitting fat is also a thing of the past.
No more scrubbing out that fine mesh.
This well designed frying pan lid is something you need.
It comes with great extras you will want.
Like a generously sized 3 bowl frying pan, a two bowl griddle, a fruit and vegetable slicer and an inspirational cook book.
At 14 dollars plus 6 dollar delivery, this deal is as clever and good as this frying pan lid.
Click below to order your frying pan set.